NEWS
For immediate release
Contact: Timothy R. Gaffney
Volunteer media director
Phone (cell): (937) 219-8277
Email: trg@aviationheritagearea.org
Editors: Click on the photo for a downloadable high-resolution image.
OSHKOSH, Wis.—Wright "B" Flyer Inc.'s one-of-a-kind airplane is ready to showcase America's aviation heritage at the world's biggest general aviation fly-in.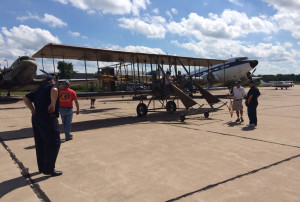 The Wright "B" Flyer is set to go on display Monday, July 20, at the Experimental Aircraft Association's (EAA's) AirVenture 2015 convention, fly-in and air show. The primitive-looking flying machine is a modern lookalike of the Wright brothers' first factory-built airplane, the Wright Model B.
The Miamisburg, Ohio-based nonprofit organization's all-volunteer crew shipped the airplane here in a trailer here last week, and on Friday assembled it here and gave it a checkout flight.
The big biplane will put Dayton's aviation heritage on display to an expected 500,000 people over the course of the week. It will also make EAA members aware of an opportunity to help build the next Wright "B" Flyer in the original Wright brothers' factory in Dayton—America's first aircraft factory.
The airplane will be on display in the Vintage Area on Monday. On Tuesday, it will be the feature attraction on Vintage Plaza, where Wright "B" Flyer President Jay Jabour will give a presentation about the airplanes and the new airplane project. It's scheduled to fly in the daily air show on Thursday and Sunday.
The Brown Bird has been flying since 1982, and the amount of time volunteers need to spend on maintenance has been growing. That and the difficulty of shipping it to remote venues like AirVenture are the main reasons why the organization has decided to build a new one.
Like this airplane—nicknamed "Brown Bird" for its color—the new airplane will use modern materials and components, but it will be made so that two people can load it into a standard shipping container and reassemble it for flight.
Wright "B" Flyer Inc. is an all-volunteer, membership based, 501c3 nonprofit that displays and flies replicas of the Wright brothers' first factory-built airplane. Its hangar-museum is open Tuesdays, Thursdays and Saturdays from 9 a.m. to 2:30 p.m. Admission is free. Wright "B" Flyer is a partner of the National Aviation Heritage Alliance.
Visit http://wrightfactory.org for more information about the Wright Company factory. Visit https://www.wright-b-flyer.org for more information about the organization and its mission.
###
Wright B Flyer to showcase aviation heritage at world's biggest fly-in