The Valentine Flyer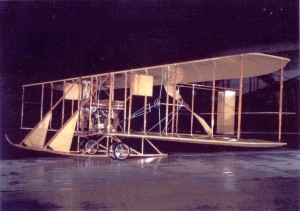 This airplane is one of several Wright replicas Tom and Nancy Valentine of California built for the 1978 TV movie "The Winds of Kitty Hawk."
It is patterned after the Model B in the Franklin Institute in Philadelphia, but the Valentines also referred to drawings for the 1905 Wright Flyer III since no Model B drawings existed.
The Valentine Flyer, as it is known, accumulated about 2.5 hours in the air over about 50 flights. It was damaged in the final flight for the movie. In 1980 it was repaired and recovered and displayed in Long Beach with the Spruce Goose for about a year in the early 1980's.
In 1984 it was placed in the Natural History Museum in Los Angeles, where it remained until 1999. Due to an earthquake, the museum was considered unsafe and the aircraft was removed and then hangared at the Whiteman Airport in Burbank. The Valentines advertised the airplane for sale.
Don Gum, a Wright "B" Flyer Inc. volunteer, learned about the airplane and brought it to the attention of Wright "B" Flyer, Inventing Flight and the Greene County Commission. Wright "B" Flyer proposed acquiring it for static display on Huffman Prairie in 2003 and thereafter.
Greene County Commission and Inventing Flight funded the acquisition and the airplane was purchased in 2001. Since then, the Valentine Flyer has been on display during warm months on the Huffman Prairie Flying Field. The Air Force funded the construction of a storage building for the flyer near the flying field, which is located on Wright-Patterson Air Force Base.
The Valentine Flyer is considerably closer to a replica of a Model B than is our flying look-a-like (Brownbird aka No. 001). The Valentine Flyer uses wing warping to bank the aircraft (as did the original Wright B), but uses a Ford Model A auto engine instead of an original Wright engine.
It is also smaller, which allows it to fit inside a standard cargo container for shipment. This makes it easier and much less costly to ship than No. 001, so in 2008 it was shipped to England for static display at the Farnborough International Air Show.
In 2010, Wright "B" Flyer volunteers restored it to running condition and taxied it under its own power, apparently for the first time since it was used for the movie. It was packed in a cargo box and hauled to Fort Sam Houston in San Antonio Texas for the 100th anniversary of Army Lt. Benjamin Foulois' first solo flight there on March 2, 1910.
One hundred years after that first solo flight, the Valentine Flyer was the centennial ceremony's star attraction, taxiing on the parade field where Foulois had made his flight while Wright "B" Flyer No. 001 (Brownbird) cruised overhead.
Valentine Wright Model B Specifications
GENERAL CHARACTERISTICS
REGISTRATION: N2283D
CREW: 2
POWERPLANT: 1 1929 Model A Ford, 40 hp at 1,500 rpm
PROPELLERS: 2 chain driven, reproduction Wright pusher propellers, 102 ½ in., counter-rotating. Hand-carved from aircraft-grade spruce
WINGSPAN: 38 ft. 11 in.
HEIGHT: 8 ft.
LENGTH: 30 ft. 11 in.
WEIGHT: 823 lb. empty, 1237 lb. max gross
WING AREA: 489 sq. ft.
WING LOADING: 2.53 lb./sq. ft.
WING AIRFOIL: Wright
PERFORMANCE
No data