The Brown Bird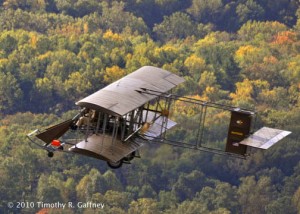 The project to build No. 001, Brown Bird, was the genesis of Wright "B" Flyer Inc.
In 1973, a number of air-minded individuals at Wright-Patterson Air Force Base decided to built a flyable lookalike of the Wright brothers' first production aircraft. The project was launched in 1975.
Research revealed that detailed construction drawings of the original Wright B Military Flyer did not exist, so the planners decided to use the non-flying, highly modified Model B in the Air Force Museum as a template. Important modifications to this airplane included ailerons instead of wing warping and a control wheel instead of the original control levers.
Modern engineering and materials were used to design and build an airplane that would look like a Model B but meet modern airworthiness standards. The result was a robust aircraft with a steel structure and a modern aircraft engine. Its empty weight is 3,400 lbs., compared to the 1,400 pound loaded weight of the machine on which it's based.
Volunteers nicknamed it the "Iron Bird." The airplane's surfaces are painted brown. With the acquisition of the Valentine Flyer with its yellowed surfaces, volunteers have taken to calling No. 001 the "Brown Bird." (No. 001 apparently was painted brown because the surfaces of the museum's airplane are dark, and it has been referred to as a lookalike of a Wright military flyer. But the museum does not identify its airplane as a military aircraft, and the Wright airplanes sold to the military were not painted.)
Wright "B" Flyer No. 001 Specifications
GENERAL CHARACTERISTICS
REGISTRATION: N3768B
CREW: Pilot/Copilot; Pilot/Observer
POWER PLANT: Lycoming HIO-360 F1AD, 225 Horsepower/Max, Turbo Charged, Air Cooled, 100 Octane Fuel
PROPELLERS: SENSENICH Blades; 97 Inch Diameter, 1700 RPM, Counter Rotating, Made from Maple
WING SPAN: 38 Feet, 6 Inches
HEIGHT: 10 Feet, 8 Inches
LENGTH: 31 Feet, 11 Inches
WEIGHT: 3400 Pounds
WING LOADING: 7 Pounds per Square Foot
ELEVATOR SPAN: 16 Feet
ELEVATOR AREA: 64 Square Feet
RUDDER AREA: 30 Square Feet
WING AREA: 480 Square Feet
WING AIRFOIL: NACA4412
TAIL AIRFOIL: NACA0006
PERFORMANCE
TAKE OFF: 41 MPH
CRUISE: 60 MPH
ENDURANCE: 2 Hours
RANGE: 100 Miles
LANDING: 45 MPH
MAXIMUM ALTITUDE: Approximately 2000 ft msl, depending on atmospheric conditions.