New Wright Model B Lookalike – the White Bird.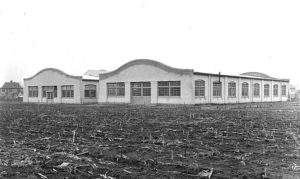 In 1910, the Wright brothers built America's first airplane factory in Dayton, Ohio where its workers were the first in America hired and trained to manufacture airplanes. Their first product—the Wright Model B—marked the birth of America's aviation industry.
For a generation, Wright "B" Flyer, Inc. has celebrated that heritage and inspired future aviation professionals by flying and displaying a Wright Model B lookalike that we called the "Brown Bird". But with the rise of invitations to display and fly our airplane at international venues together with the aging of our original Wright "B" Flyer Lookalike made it clear that we would soon need a new airplane.
Approximately 20 years ago an individual with a passion for aviation heritage generously donated funds that allowed us to begin the design and construction of a new Wright "B" Flyer lookalike, nicknamed "White Bird". We initially intended to build the new Wright Model B lookalike in the original Wright Company factory buildings. But we soon realized that it would be a few years before the restoration of those buildings could be completed. And so, we decided to commence design and construction of the new aircraft in our museum/hangar in Miamisburg, near the Austin Landing shopping complex.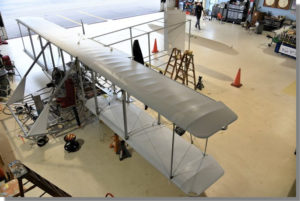 Now, a dedicated group of experienced Wright B Flyer volunteers have completed the building of all of the major components of the aircraft including the tubular steel structures, wooden ribs and fabric covering. The wing structures were built to our design by the enthusiastic members of the Experimental Aircraft Association (EAA) Chapter 5 of Middlefield, Ohio. In addition, numerous local businesses have been generous enough to provide some donated services or reduced prices to help with the manufacturing of parts.
The biplane wing, center-section structure, tail boom, stabilizer, rudder, ailerons, pilot platform, and landing gear are all completed. The avionics and electrical systems have been built and installed. The brand-new Lycoming IO-390 engine has been run, broken in and installed; the chain, drive train and propellers have also been installed.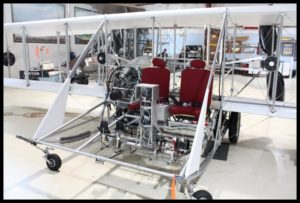 Tasks in progress that remain to to be completed include adjustment of flight control linkages and pilot seats. After the final assembly and checkout, ground tests were conducted in the winter (2019).
These include: thrust runs, control surface checks, weight and balance measurements, and test instrumentation checks. We conducted taxi tests this past winter, as weather permitted, and started flight tests early in the spring of 2020.
Individuals and groups are welcome to tour the project in our hangar and to follow our progress on the Internet. Check our Videos page or our News page on this website or follow us on Facebook.