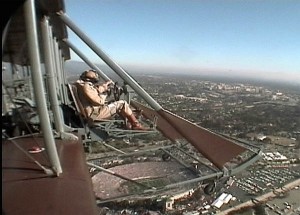 Wright "B" Flyer Inc. is an all-volunteer, membership-based, not-for-profit corporation located on the Dayton-Wright Brothers Airport near Dayton, Ohio. We fly one Model B look-alike during the summer months, and our hangar doubles as a museum.
We make our flying airplane available for fly-overs and static displays at public and private events.
In cooperation with the National Park Service and the U.S. Air Force, we display the non-flying Valentine Wright Model B replica in our hangar museum. We offer a speaker's program for schools and community groups.
In the future, we hope that our Honorary Aviator members will be eligible for a free orientation flight aboard our current, flying replica.
Mission Statement
To promote, through exhibition of Wright "B" Flyer lookalikes, public awareness of the Dayton, Ohio region, where the Wright Brothers lived, invented the airplane, and gave birth to modern aviation.
Privacy Policy
Wright "B" Flyer Inc. tracks our web traffic statistics in order to determine how best to provide information to our website visitors. No names or personal information are collected during the tracking process. Information that you provide to us by filling out online forms is only for use by Wright "B" flyer Inc.
Links to other Sites
As a community service, Wright "B" Flyer Inc. links to the websites of our National Aviation Heritage Alliance partners and other sites which we think visitors to our website may find of interest. Unless expressly state otherwise, Wright "B" Flyer Inc. makes no representations whatsoever concerning the content of those sites. A link to a website from Wright "B" Flyer Inc. is not an affiliation, authorization, sponsorship or endorsement of the site, its owners or providers. When leaving www.wright-b-flyer.org, it is recommended that you check the privacy practice of the sites mentioned on our pages, before providing personal information.
Copyright Statement
Unless otherwise stated, copyright of the text materials contained in this website is owned by Wright "B" Flyer Inc. These materials may be used, downloaded, reproduced or reprinted, provided that this copyright notice appears on all copies and provided that such use, download, reproduction or reprint is for noncommercial and personal use only. The text materials contained in the website may not be modified in any way. Should you plan any other use of these text materials, please contact Wright "B" Flyer Inc. for permission. Prior permission to use, download, reproduce or reprint any photograph, illustration, artwork or other graphic material must be obtained by Wright "B" Flyer Inc. or the otherwise identified copyright holder, regardless of the intended use.
Any use of Wright "B" Flyer Inc., its logo, or text or graphic materials contained in this website in any manner to express or imply endorsement, sponsorship, affiliation or association of the user with or by Wright "B" Flyer Inc., is strictly prohibited.
Postal Address: 10550 Springboro Pike, Miamisburg, Ohio 45342
Phone: (937) 885-2327