MIAMISBURG, Ohio—Wright B Flyer Inc. on Tuesday formally endorsed a bill to add the Wright brothers' first powered airplane to Ohio's official seal.
Ohio House Bill 386 would add the 1903 Wright Flyer to the Great Seal of the State of Ohio, which currently depicts the sun rising over Mount Logan, the Scioto River and cultivated fields in Ross County. The flyer would appear in the sky near the sun. The bill would not change other elements of the Ohio seal.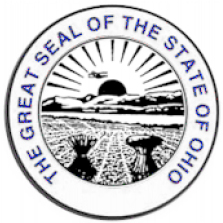 Wright B Flyer's board of trustees approved a resolution supporting the bill at its regular meeting Tuesday, Nov. 10. A downloadable copy of the resolution is available here (PDF document).
The bill is sponsored by Ohio Rep. Richard Perales, R-Beavercreek. In a Dayton Daily News report, Perales said the Flyer would symbolize Ohio's invention of the airplane, which he called "something that absolutely changed the course of history."
The bill has 40 co-sponsors, but three previous attempts since 1997 to add the Wright Flyer to the seal have failed. The latest bill is opposed by the Ross County Historical Society. The Dayton Daily News article quoted Historical Society Director Thomas Kuhn as saying the scene "should remain a scene of natural wonder without the introduction of a man-made object into it."
Wright B Flyer's resolution notes the Ohio seal currently depicts Ohio agriculture, which is "an ancient practice common to all states, but only Ohio can legitimately claim to be the birthplace of powered flight."
Based at Dayton-Wright Brothers Airport south of Dayton, Wright B Flyer is an all-volunteer nonprofit that flies a modern lookalike of the Wright Model B, the Wright brothers' and America's first factory-built airplane.
Wright B Flyer: Add flyer to Ohio seal