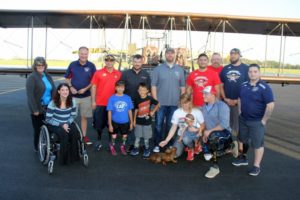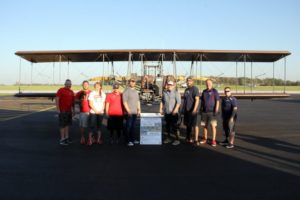 Members of the Wounded Warriors Amputee Softball Team (WWAST) were in the Dayton, Ohio area on Saturday, October 14 to play two softball games at Wright State University. For those who may not know, these are folks who lost limbs in the service of their country and then made the long arduous journey back through rehabilitation to gain a semblance of normalcy. These wounded warriors, however, went even further, setting and achieving the goal of once again playing sports.
But on Friday the 13th of October, some of the team members didn't play softball. Rather, they and some of their families traveled to the Wright "B" Flyer hangar at the Dayton-Wright Brothers Airport in southern Montgomery County. And, while at the hangar, they toured the museum and dined, and several took orientation rides on the Wright "B" Flyer lookalike.
It was an exciting experience for them. But it was an honor for us to have made a little better, in some small way, the lives of a few who gave so much when they answered their country's call. The photos included here are Courtesy of Richard Smith.
Wounded Warrior Amputees Fly on Wright "B"