Visit Wright "B" Flyer
Visit Wright "B" Flyer's hangar and museum where you can get up close to our aircraft and meet the volunteers who designed, built, operate and maintain them. It's all free!
Browse our newly updated historical displays to learn how the Wright brothers learned the secrets of flight. And, learn how those secrets allowed them to build and fly the world's first successful heavier-than-air craft in December 1903.

From the timeline display that some of our volunteers put together you'll also learn about the building of our museum and our Wright "B" Flyer lookalike.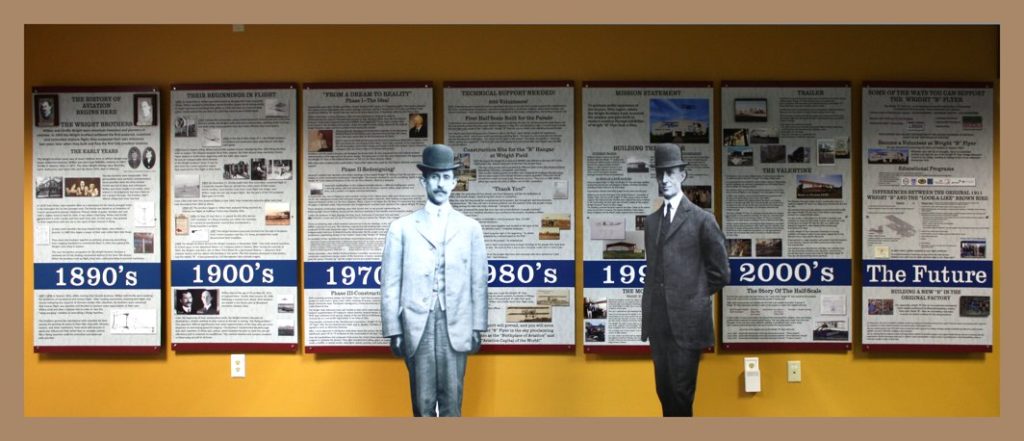 You can also see information and pictures of the Wright Company where the Wright Brothers built the world's first mass-produced aircraft, the original Wright "B" Flyer in Dayton, Ohio.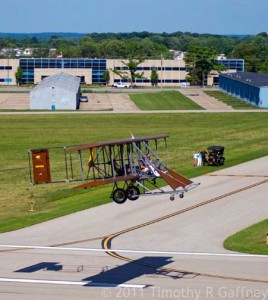 Better yet, become an Honorary Aviator Member for $100.00 and receive a free orientation flight on Wright "B" Flyer
No. 001. Experience the thrill of pioneer flight. You'll sit out in the open, in front of the wings, and experience the sights, the sounds and the feel of wind-in-your-hair flight that the Wright brothers experienced.
Talk to our volunteers to find out how you can become one. And buy a souvenir from our Gift Shop, to remember your visit and support our program.
Hangar/Museum hours:
Tuesdays, Thursdays, Saturdays, 9:00 AM – 2:30 PM.
Other times by appointment.
Please click here for announcements of closings around the
Thanksgiving and Christmas holidays, other holidays and rarely for special events.
Admission: Free
Address:
10550 Springboro Pike
Miamisburg, Ohio 45342
Phone: (937) 885-2327
Map:

View Larger Map
Driving directions
Enter your address (street, city, state)