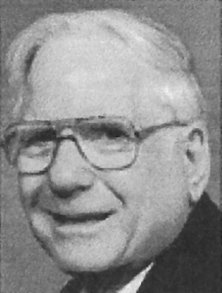 Long-time Wright B Volunteer John Warlick passed away at age 91 on November 27, 2016, surrounded by family. Born in Birmingham, Alabama, John was a resident of Beavercreek, Ohio for the last 46 years. John was proceeded in death by his wife of 64 years, Evelyn Martin Warlick, parents John and Eva May Warlick, and an infant sister. John was a long-time member of Aley United Methodist Church in Beavercreek.
During WWII, John was a decorated Navy pilot on three aircraft carriers; the last assignment was on the carrier, Coral Sea. Afterward he served in the Navy Reserve for a total of 22 years of military service, retiring as a Lt. Commander. John obtained hs Bachelors of Science degree from Auburn University and then completed a Masters degree at Georgia Tech.
John was most proud of constructing and piloting the Wright "B" Flyer look-a-like. He and Evelyn organized and traveled with the Wright "B" around the United States and overseas. The Wright "B" Hangar in Miamisburg, Ohio is named in honor of John and Evelyn Warlick.
John earned numerous military and civilian accolades which include being inducted into the air Force Hall of Fame. But, most important to him was his family and especially his grandchildren.
Visitation will be held Wednesday, November 30, from 5:30 to 8:00 pm at Tobias Funeral Home, 3970 Dayton-Xenia Road, Beavercreek, Ohio. A military burial will be held Saturday, December 3 at Elmwood Cemetery Chapel, Birmingham, Alabama. In lieu of flowers, memorials can be sent to: Evelyn and John Warlick Wright "B" Flyer Hangar fund at 10550 Springboro Pike, Miamisburg, Ohio 45342, or to one's favorite charity. Online condolences may be sent to www.tobiasfuneralhome.com.
Wright B Volunteer John Warlick Passed Away