The National Aviation Heritage Alliance, NAHA, presented the 2017 Mitchell Cary-Don Gum Memorial Aviation Scholarship to Mullika Pandit, daughter of Miti and Anirudh Pandit of Mason, Ohio. This is the fifth time NAHA has awarded the scholarship; the fifteen-year-old Mason High School student is the youngest person and first female to receive the award. The presentation took place on Tuesday, February 14 in the Huffman Prarie Flying Field Interpretive Center, a unit of the Dayton Aviation Heritage National Historical Park.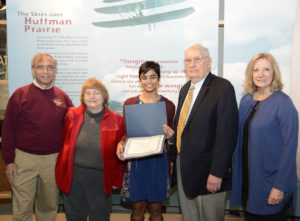 In her scholarship application, Mullika wrote she learned about "every possible career in the field of aviation" while attending the Dayton area's Air Camp last year. "But none of those options grabbed my attention like piloting". Her Air Camp experience included a flight in a private airplane. "When I took hold of the controls, the plane and I became one," Mullika wrote.
About the Scholarship
NAHA sponsors the Mitchell Cary-Don Gum Memorial Aviation Scholarship in honor of two volunteer pilots for Wright B Flyer who lost their lives in 2011 in the commemoration of the Wright brothers' invention of aviation. The scholarship provide $1,500 worth of flying lessons towards earning a Private Pilot or Light Sport Pilot's Certificate. For more information go to https://www.aviationheritagearea.org/aviation-programs/mitchel-carydon-gum-memorial-aviation-scholarship/.
Information and photo courtesy of Timothy R. Gaffney, NAHA Director of Communications.
NAHA Scholarship Awarded to Mason HS Student