Long-time Wright "B" Flyer member, Colonel Leslie L. Dunning, U. S. Air Force Retired, of Kettering, Ohio passed away on September 13,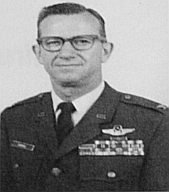 2015.  Colonel Dunning received his bachelors degree from Purdue University and an MBA from the Air Force Institute of Technology.  The WWII veteran played a prominent role in the development of the B-58 and the F-111 aircraft for the U.S. Air Force, and helped the Wright "B" Flyer, Inc. build a flyable lookalike of the 1911 Wright B Flyer.
Visitation will be held from 6:00 PM until 9:00 PM, Friday, September 18, 2015 at the Colvin Funeral Home, 425 North Main Street, Princeton, IN 47670.  Funeral services will be held at 10:00 PM also at the Covin Funeral Home.
Leslie L. Dunnning Passed Away