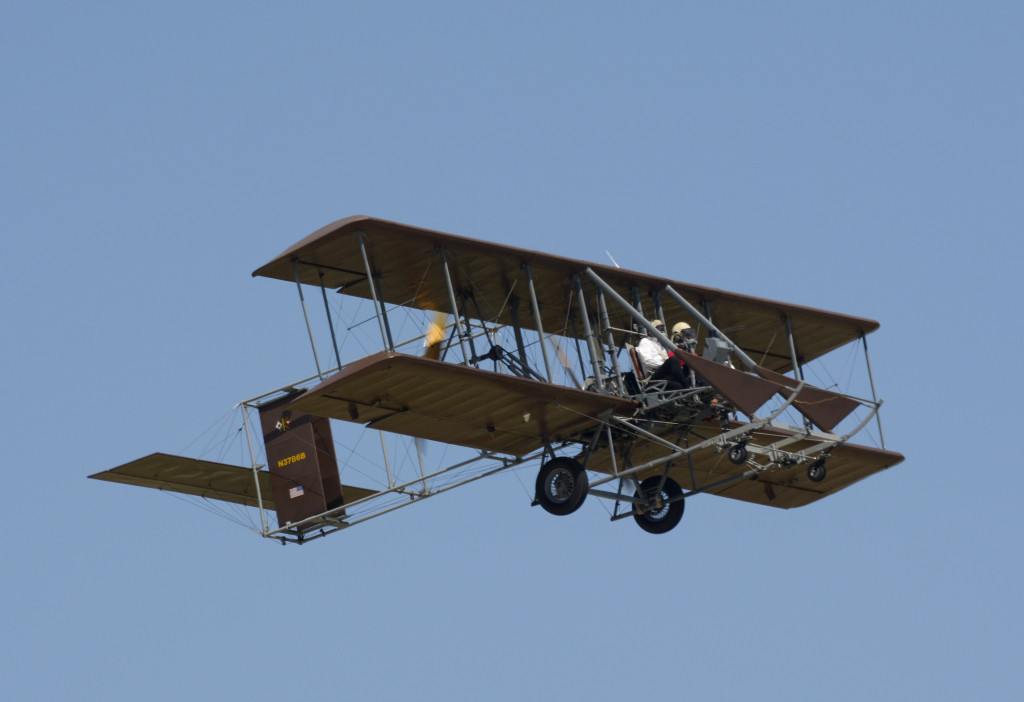 OSHKOSH, Wis.—The one-of-a-kind Wright B Flyer made its second flight at the Experimental Aircraft Association's (EAA's) AirVenture 2015 on Sunday, July 26.
The flight wrapped up Wright B Flyer's first visit to the world's biggest gathering of aviation enthusiasts, annually attended by approximately 500,000 people from around the world.
Nicknamed the Brown Bird for its color, the custom-built machine showed spectators how the Wright brothers' first factory-built airplane looked as it motored slowly past the spectators in AirVenture's final daily air show at Wittman Airport. Volunteer Pilot Tom Walters flew as air show announcer Danny Clisham broadcast live from the right seat.
The airplane previously flew on Thursday, July 23, with Volunteer Chief Pilot Rich Stepler at the controls.
Throughout the week, the Wright "B" Flyer Inc. organization displayed the airplane in AirVenture's Vintage Area, where volunteers described plans to build a new Wright B Flyer in the original Wright brothers' factory in Dayton with the help of EAA members and chapters worldwide.
"It was a great opportunity to introduce the Wright B Flyer to EAA members, and the response has been tremendous," Wright B Flyer President Jay Jabour said. Volunteers spoke to visitors from across the United States and from foreign countries such as Uruguay, Australia and Japan.
Throughout the show, Wright B Flyer volunteers gathered names and contact information from EAA members who want to help build parts of the new airplane. Like the Brown Bird, the new airplane will be a modern lookalike—not a replica—built to modern airworthiness standards with modern materials, components and controls.
Flying since 1982, the Brown Bird is an aerial symbol of Dayton's, Ohio's and America's aviation heritage. Wilbur and Orville Wright developed the airplane in Dayton and built America's first airplane factory there in 1910. Its first product was the Wright Model B Flyer.
EAA is supporting the project by helping the all-volunteer Wright B Flyer organization reach out to members and chapters. Wright B Flyer brought its flying airplane to AirVenture for the first time this year at EAA's invitation.
"We really appreciate EAA's support," Jabour said.
The next job for Wright "B" Flyer volunteers will be to disassemble the Brown Bird, load it into its custom trailer and haul it back to its hangar-museum at Dayton-Wright Brothers Airport south of Dayton. As soon as the airplane has been reassembled and tested, construction will start on the new airplane.
Wright "B" Flyer Inc. is an all-volunteer, 501(c)(3) nonprofit. It welcomes financial and in-kind donations. It is a partner of the National Aviation Heritage Alliance, which is a supporter of the new Wright B Flyer project.
Brown Bird makes 2nd flight at AirVenture