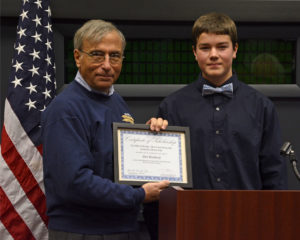 On Friday, December 15, Jay Jabour, National Aviation Heritage Alliance (NAHA) Trustee and Wright B Flyer, Inc. Board of Trustees Chairman, awarded the Cary-Gum Aviation Scholarship to Alex Hackney. Alex, a 15-year-old freshman at Greeneview High School in Jamestown, is the son of Paul and Rebecca Hackney.
The presentation of the award was made inside the Huffman Prairie Flying Field Interpretive Center that sits atop the Wright Brothers Hill on Wright-Patterson Air force Base.
The aviation scholarship provides $1,500 for a student who is working toward a light sport or private pilot's certificate. The award was established by NAHA in memory of Mitchell Cary and Don Gum, volunteer pilots for Wright B Flyer, Inc. who died in 2011.
2017 Cary-Gum Aviation Scholarship Awarded to Jamestown Student