New Airplane — Original Factory
In 1910, the Wright brothers built America's first airplane factory in Dayton, Ohio. Its workers were the first in America hired and trained to manufacture airplanes. Their first product—the Wright Model B—marked the birth of America's aviation industry.
For a generation, Wright "B" Flyer Inc. has celebrated that heritage and inspired future aviation professionals by flying and displaying a modern lookalike of the Model B.
Now, we're preparing to build a new one to ensure our mission continues for the next generation.
The timing is perfect. Efforts to restore the Wright Company factory buildings have presented a truly historic opportunity: building a new Wright "B" Flyer in the original factory.
It's an experience you can share.
Building a new B in the original factory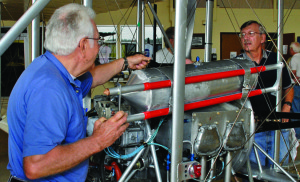 In recent years, the rise of invitations to display and fly our airplane at international venues has made it clear we need a new airplane that's easier for our volunteers to ship to distant locations and operate with a small support crew.
The new airplane project took off in 2014 when an individual with a passion for aviation heritage donated $100,000 and offered to match another $50,000. Our goal is $300,000, including in-kind donations.
This project isn't simply about building another airplane. We want it to spark interest in aviation history, rekindle enthusiasm for flying and inspire future pilots and aerospace professionals.
We're working with the National Aviation Heritage Alliance (NAHA) to build the project in the original Wright factory. And we're working with the Experimental Aircraft Association (EAA) and its chapters to give homebuilders a chance to join in by building parts and subassemblies, either at their own locations or right in the factory. Individuals and groups will be welcome to tour the project and follow our progress on the Internet. Check our Media page or our News page on this website, or follow us on Facebook.